Make a Christmas Gift in Honour
Show Your Clients That You Care and Share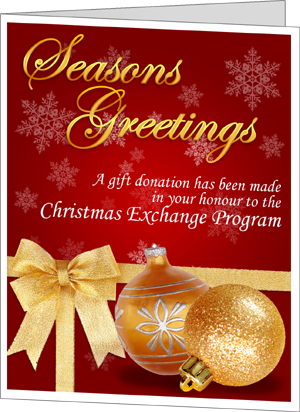 As a charitable organization, it's essential to remember how important our donors are and to thank them for their gifts. As a local business, it must be equally important to remind your clients and customers how important they are to your continued success! How about thanking them and wishing them a Merry Christmas?
You can honour your clients, partners, or loved ones at Christmas by making a donation to the Christmas Exchange Program. Your donation will directly help families in need in Ottawa as they are going through difficult times.
Send us a spreadsheet* with names and mailing addresses of those you wish to honour at This email address is being protected from spambots. You need JavaScript enabled to view it.. Then we will send the Christmas cards on your behalf, informing your honoured recipients of your generosity. A charitable tax receipt will be sent to you for your donation. Please call 613-226-6434 for further information.
* We will treat your customer list in confidence and not send them any other mailings besides the cards we send on your behalf.
---